Custom Orthotics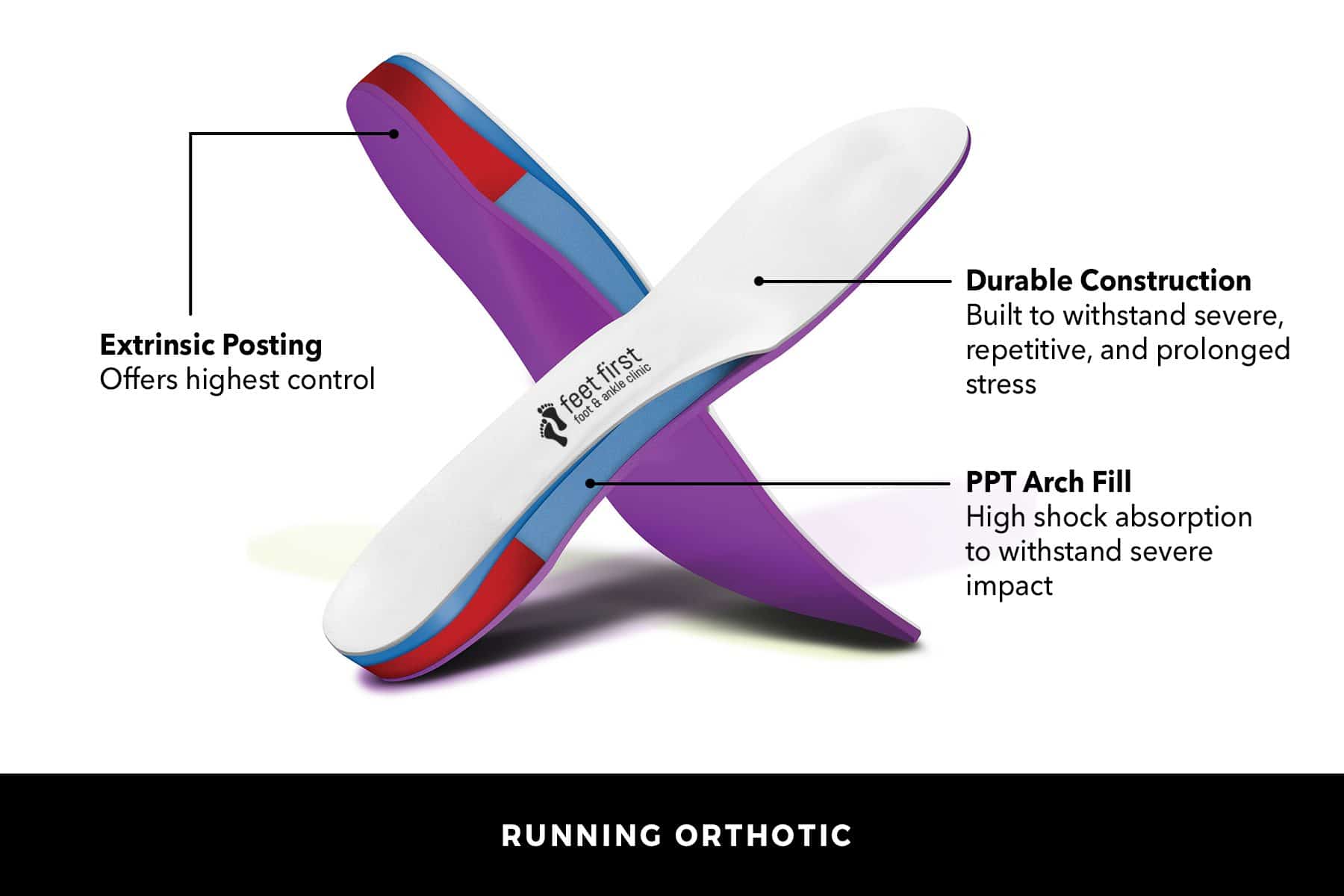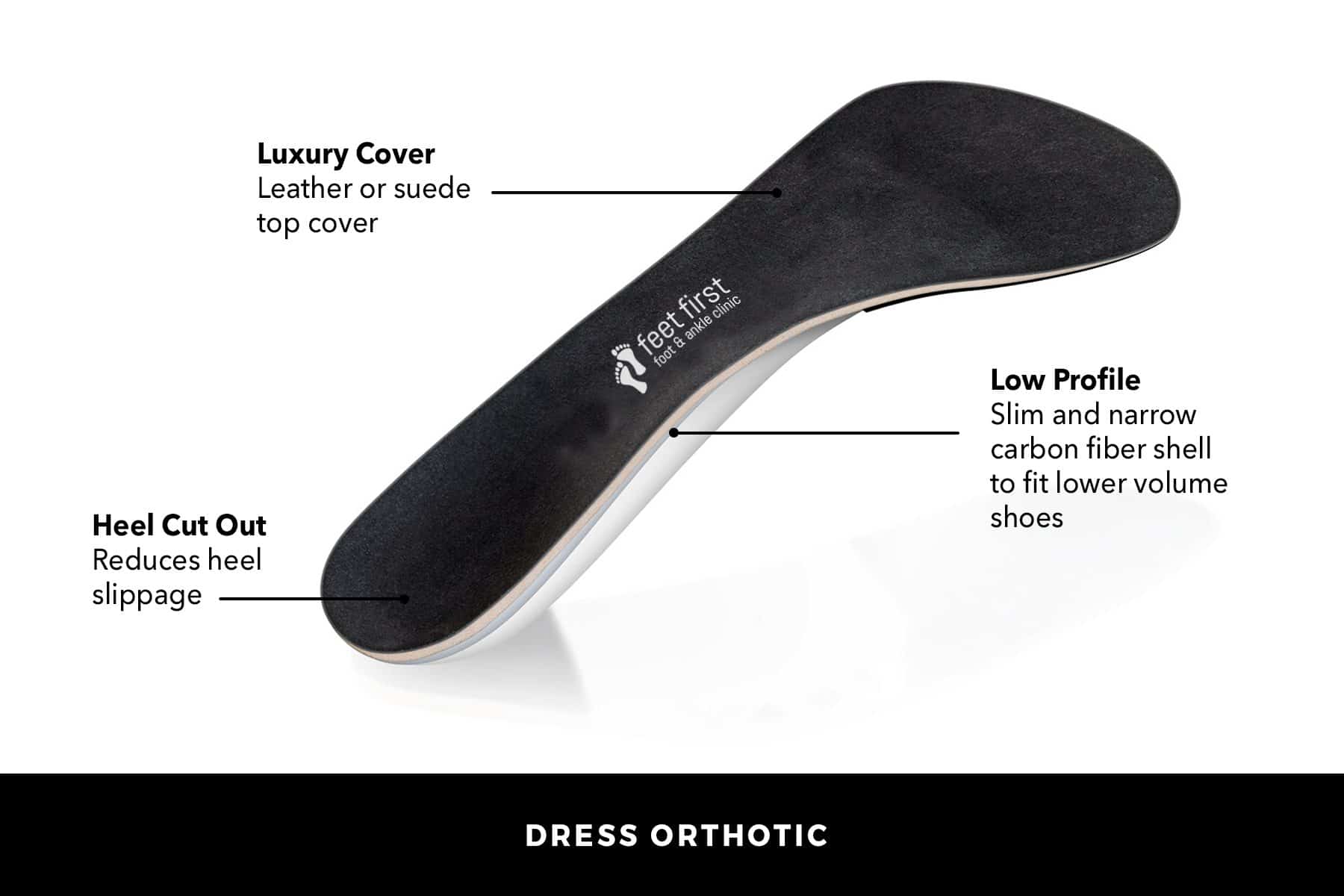 Overview
What Are Custom Orthotics?
Custom orthotics are custom-built corrective shoe inserts that provide personalized arch and heel support to reduce stress and strain on your body. These devices work to correct faulty foot mechanics and redistribute pressures along the bottom aspects of the foot.
If you have chronic foot, ankle, knee, or hip pain, your doctor or Chiropodist may prescribe custom orthotics.
The manufacture and design of custom orthotics for the feet take into consideration your activity, footwear and foot type to create a specialized device. Orthotics act to correct or accommodate biomechanical abnormalities and foot deformity.
Types of Orthotics
Functional orthotics are made with the purpose of functionally changing your gait and stance to improve performance and slow progression of any foot deformity and muscle imbalances caused by biomechanical abnormalities.
Accommodative orthotics are made to accommodate any existing deformity or fat pad loss that cannot be corrected with a functional orthotic. Accommodative devices are made for persons with rigid joints and sometimes arthritis. They are generally softer and work to redistribute pressures that can lead to painful callus and corns or heel fissures.
Orthotics are custom made; all raw materials can be ordered to clinician specifications.
Below are some common orthotic types and where they would be useful:
Sport Orthotic
This is a higher volume, full length orthotic that can offer more pronation control or shock absorption if required. The heel cup is deeper, and accommodations can be easily incorporated. If you anticipate running or jumping, you may choose the sport style orthotic. These are also best for those who wear safety shoes.
Dress Orthotic
Dress orthotics usually tend to be lower volume due to the shoes they are being placed in dress shoes! Dress shoes tend to have less space inside the shoe and thus the orthotics are also made thinner, narrower, and sometimes shorter.
Accommodative orthotic
Accommodative orthotics are high volume and are made to accommodate rigid joints or foot deformity. Top cover is usually soft – a commonly used top cover is plastazote, which reduces friction against the foot. They are best suited for orthopedic shoes or other high-volume footwear.
UCBL
UCBL orthotics have a very deep heel cup and is high control. It is made for the severe pronators and require a high-volume shoe to accommodate the device. They are commonly made for pediatric patients with over pronation.
Casual orthotic
Casual orthotics are made for casual walking and standing. The orthotic can be a medium to low volume device that can be more easily transferable between shoes.
Orthotics for high impact/distance running
This orthotics are generally made for athletic shoes. They are similar to the sport orthotic with the added change of a more flexible shell and more shock absorption for higher impact.
Orthotics for ski boots
Orthotics for ski boots will be thin, using a thin, durable material like carbon. There is also a pull tab attached for easy removal.
Orthotics for skates
Orthotics for hockey or figure skaters are thin and low profile to fit into the skate. A pull tab can be added for easy removal. Antimicrobial (bamboo) top covers can be an option.
Orthotics for cleats
Orthotics for cleats are low profile and more flexible to enhance foot performance during sport. Cleats with removable insoles work best for these types of orthotics
The Orthotic Assessment
The Process
Your chiropodist will start by taking your history. If you have any pain or foot concerns, this is a great time to let your chiropodist know. Knowledge of your health history and any major hospitalizations and injuries allow your foot specialist to properly assess and manage your foot health. Other important factors include activities or sport that you engage in regularly as well as the kinds of footwear you own and wear.
Following a history, the chiropodist will go through a biomechanical assessment, which includes range of motion as well as weightbearing assessment while standing and walking. During range of motion assessments, the joints of the foot and ankle will be moved and tested for quality and range. The chiropodists will also test qualitatively for leg length discrepancy and muscle tightness or looseness during this time.
Next, the weight bearing assessment will have you standing – your feet and knee positions will be visualized and assessed against normal values. You may be asked to perform small movements to further assess your feet during these movements. Some standing tasks can include standing on one foot, bending at the knees and standing on the toes. The chiropodist may pull on your foot or toes to see how they behave while weight bearing. Your feet may be measured for size at this time.
The next portion of your assessment includes a gait analysis to see how your body moves while walking. You will walk in a straight line for a couple of laps for the chiropodist to get a good sense of your natural walking gait. Your arm swing, shoulders, hips and head will be visualized and assessed for any tilting or excess movement. The foot and knee position are looked at closely.
Benefits
What Are The Benefits Of Custom Orthotics?
Custom orthotics aid musculoskeletal alignment and alleviate pain and strain in individuals with flat feet, high arches, bunions, hammer toes, and other structural and functional abnormalities.  Because they are created from plaster molds of your feet, they provide targeted support exactly where you need it.
There are multiple benefits including reduced pain, reduced foot and leg fatigue, and could even help to reduce neck, knee, back and hip pain.
Pain felt in the lower body can be induced from improper mechanics as you stand, walk or run.
Orthotics for pronators act to reduce foot motion through the gait cycle, which can subsequently reduce knee motion and hip motion. Pronators see excessive motion ;walking and running which can quickly fatigue the feet and legs. Reducing motion can assist with energy conservation and fatigue over long periods.
Orthotics for low pronators or supinators act to increase shock absorption and reduce high pressure areas along the bottom of the foot.
Persons with foot deformities such as bunions or hammer toes, or boney prominences can use orthotics to accommodate these boney areas to reduce pressure and pain.
A major benefit of orthotics is preventative. Biomechanical abnormalities can lead to muscle imbalances and subsequent foot changes or deformity which can impact future activity and comfort. An example of this is bunions. Bunions are gradually progressive, and orthotics can help to adequately offload the bunion to slow changes. Other foot changes that can progress without orthotics include hammer toes, clawed toes, flat feet, neuroma, and high arched feet. By reducing muscle imbalances, these foot deformities can be suppressed.
Because they are created from plaster molds of your feet, they provide targeted support exactly where you need it.
To schedule best foot care appointment with our licensed Chiropodists (foot specialists), use the booking form below or call 416-769-FEET(3338).
Our Toronto foot clinic is open Monday-Friday 10am-7pm, Saturdays 10am-4pm.
You do not need a referral to become a patient at our Foot clinic.
Who Can Benefit From Custom Orthotics?
Individuals with 
flat feet
 and 
high arches
 can benefit greatly from wearing custom orthotics that correct pain-causing biomechanical dysfunction such as overpronation and oversupination. In those with ulcers, 
calluses
, or recurrent 
ingrown toenails
, custom orthotics can help reorient the feet and adjust one's gait to divert pressure away from problem areas.
Custom orthotics can benefit people of all activity-levels, from high-impact sports and jobs that demand hours on your feet to non-strenuous recreation like a casual stroll or dog walk.
People with diabetes:
Diabetes can affect the muscle balance of the feet creating higher arched feet in those who have the disease. Also, diabetes can lead to peripheral neuropathy and increased risk of infection, especially in the feet and lower legs. Callus can be a sign of ulceration risk. Persons with diabetes should take great care with reducing callus formation through good footwear, routine chiropody visits and custom orthotics. Orthotics for persons with diabetes can offload any high-pressure areas to reduce callus production and lowering risk for ulceration. Also, custom top covers can help reduce friction that can lead to blisters.
Pronation in the foot is motion where the arch lowers on the inner, medial margins. Excessive pronation leads to foot fatigue and is a major contributing factor to common foot ailments like shin splints, plantar fasciitis, metatarsalgia, neuroma and bunions. Pronation can also contribute to ingrown toenails, and excessive pressure on the medial foot can aggravate the nail corners. Orthotics have a firm thermoplastic shell, built to your foot, to reduce pronation and subsequently related conditions.
Persons with high arches generally require shock absorption orthotics to help redistribute pressures on the foot, away from the heel and forefoot, and into the arch.
Persons with deformity: bunions, hammer toes, club foot, short metatarsals, boney prominences.
Persons with bunions will see inefficient use of the large toe joint. Pressure can then be applied over to the smaller toes or other areas of the foot which can lead to further deformity and toe changes. Orthotics would work to reduce pressures that can aggravate the bunion and lower any concomitant pain.
Persons with hammer toes or clawed toes will experience higher pressures at the ball of foot. Clawed toes can lead to metatarsalgia – a painful condition of the ball of the foot. Orthotics can help offload the forefoot and alleviate pain associated with metatarsalgia and clawed toes. Orthotics can also reduce progression of clawed and hammer toes, which can become painful and rigid if left untreated.
Custom orthotics can benefit people of all activity-levels, from high-impact sports and jobs that demand hours on your feet to non-strenuous recreation like a casual stroll or dog walk.
Walkers: Dog walkers, letter carriers, hospital workers, housekeeping, engineers, inspectors, shoppers, travelers, flight attendants, delivery service, restaurant workers, construction and maintenance, etc.
Walking will feature your natural gait and any biomechanical abnormalities can be compounded after years of repetitive walking. Your orthotics should be best suited for walking if this if your main activity. Main walking surfaces may hard surfaces like cement, asphalt, tile and hardwood. The goal of the orthotics may be to prevent pain and fatigue with prolonged walking.
Athletes and Sports enthusiasts: Runners and jumpers – long and short distance runners, volleyball players, basketball players, badminton players, and more.
Runners and jumpers place higher impact on the foot and joints requiring a device with more shock absorption and generally more flexibility.
Skiers and skaters have particular requirements of their feet and knees during forward body movement and orthotics will accommodate these specific movements
Standing: teachers, professors, retail, cashiers, factory workers, painters, artists, electricians, police officers, food service.
Standing requires strong form in posture to maintain muscle balance and reducing pain, especially in back and neck. Orthotics can reduce excess motion in standing position that can help with proper alignment and posture, avoiding back and neck and even jaw pain.
Features
What Is The Difference Between Custom Orthotics and Over-The-Counter Insoles?
Custom orthotics are created from raw materials using a three-dimensional model of your actual feet. In other words, they are built from scratch just for you to meet your specific and unique needs.
With the exception of runner's orthotics, which are made from a more pliable combination of leather and cork, most custom orthotics are constructed from rigid or semi-rigid high-density plastic or fibreglass, and their primary role is to correct improper alignment of the bones, joints, muscles, tendons, and ligaments of your feet and ankles in order to prevent and relieve pain and discomfort resulting from musculoskeletal abnormalities, whether genetic, age-related, or the result of ill-fitting shoes or overuse.
Whereas custom orthotics are structured and corrective, 
over-the-counter insoles
offer arch support based on a standard last and a neutral setting. They can be soft or firm and offers comfort and cushioning. If feet have visible deformity or excess width, a custom device may be a better selection for you.
What Shoes Can I Put Custom Orthotics In?
Custom orthotics can be made for nearly every type of shoe including:
Sneakers – these casual shoes can accommodate a medium sized orthotic with moderate control.
Dress shoes – these low-profile shoes require a very thin and narrow device. Sometimes the shorter orthotic fits better
High heels – these low-profile shoes require a very thin and narrow device. Sometimes the shorter orthotic fits better.
Hiking boots – this is a high-volume shoe that should be able to accommodate a high volume orthotic.
Ski boots – this is a device created specifically for ski boots, focusing on a low volume, durable device.
Hockey skates – orthotics are generally thin and durable offering ankle and foot control with skating.
Sandals – sandal orthotics are custom built for a specific sandal model and would require either a cork footbed or a removeable footbed.
Athletic shoes – these high-volume shoes can accommodate the highest control orthotic.
Safety shoes – these high-volume shoes can accommodate the highest control orthotic.
How Long Will A Pair Of Custom Orthotics Last?
On average, a pair of custom orthotics will last two to three years of daily wear.
There may be normal wear and tear to the top covers, which can easily be replaced or refurbished.
Insurance Coverage
Are Orthotics Covered By Insurance?
Custom orthotics are NOT covered by OHIP but most extended health insurance plans cover the cost of orthotics in part or in whole. If you are unsure whether you have foot care benefits our our staff is happy to help you check your coverage.
Do I Need A Prescription For Custom Orthotics?
Sometimes, if you wish to use your private foot care benefits to get custom orthotics, ALL insurance providers require a prescription from a medical doctor, chiropodists or podiatrist.
Most providers will accept prescription from chiropodist, for which our clinic has multiple chiropodists who can assess your feet if you require orthotics.
Casting
Casting allows us to capture the true foot in the desired position. This position is called: Sub-talar joint neutral. The cast is performed with the patient in prone position, face down. Plaster of paris bandages are wrapped around the foot, the foot is positioned, and held until the plaster is dried enough to be removed. The foot is then cleaned. The plaster molds are dried completely before being shipped to our partnering orthotics fabrication lab.
Book an appointment for custom orthotics
You do not need a referral to become a patient at our foot clinic. Schedule an appointment by using the Appointment Request form below or contact the clinic at 416-769-FEET(3338).